Could there be Dutch de Ligt At Tottenham next season?
As we edge closer to the end of the season, it looks all the more likely that Tottenham and Toby Alderweireld will be parting company this summer. The Belgian international's refusal to sign a new contract means that chairman Daniel Levy will have no other option than to cash in on one of his most prized assets.
Although the loss of the former Southampton defender will be a huge loss to the club, the defensive partnership of Jan Vertonghen and Davinson Sanchez has shown that life does go on in North London, with the pair turning in a number of impressive performances as of late.
The one common trait that these three defenders have is that they were schooled at the much-lauded Ajax academy in the Netherlands. The Dutch club have produced countless top-class players over the years thanks to their coaching methods, and it could be Amsterdam once more where manager Mauricio Pochettino identifies a replacement for the outgoing Alderweireld.
That is because last season's Europa League runners-up have another top defensive prospect who is attracting the attention of a number of top clubs across the continent, with Tottenham believed to be leading the race to win his signature when the transfer window re-opens
The player in question is Matthijs de Ligt. At just 18 years of age, he has already broken into the Ajax first team - while last season saw him handed his full international debut for the Netherlands. One that saw him become the youngest player to play for the Dutch national teamsince 1931.
Such is the way of the world these days, that if any player impresses for clubs such as Ajax then the focus of Europe's footballing elite is never all that far behind. De Ligt has been earning rave reviews over the course of the past two seasons and now his current employers are bracing themselves for a string of transfer enquiries.
And it is here where Tottenham will look to reconnect the pipeline of talent that has been flowing their way over the past few years. One should not forget that it is not just world class defenders that Ajax are capable of producing, with Danish international Christian Eriksen also spending his formative years at their academy.
De Ligt would almost be the perfect signing for Tottenham in the summer. Not only does he have plenty of experience for someone his age, but the fact that he has been given the same footballing education as possible teammates Jan Vertonghen and Davinson Sanchez means that his integration to the club would be almost seamless.
The danger when any new signing comes to the club from abroad is whether they will settle quickly in their new surroundings; a smooth transition is required, not to mention expected, especially when there is a large transfer fee involved.
This is something that can be easily avoided should De Ligt swap Amsterdam for North London, as he will have perfect allies in the guise of Tottenham's current centre back pairing; a duo who in turn can make sure the youngster hits the ground running should he join a side that looks set to play in the Champions League next season.
A point that is well reflected when looking at the current Premier League betting markets. After their impressive win over Chelsea at Stamford Bridge they now have odds of 1/50 on to finish in the top four for a third successive campaign. So, the youngster would have to be ready to take on Europe's elite competition.
It will obviously be a huge disappointment should Toby Alderweireld leave the club but if Tottenham can replace him with this talented young player who has all the tools to required to have a successful career, then the future really is bright.
Tottenham Hotspurs' players going to the World Cup
Tottenham players have been putting in some good performances not only for the team but also for their national teams. This has seen 13 of the first team players qualifying for the World Cup with their respective countries. The 13 include players representing England, France, Argentina, Denmark, and South Korea. You can keep track of how these players perform at the World Cup by visiting different football sites and you can also pick their teams to progress via the World Cup 2018 betting platforms offered by various sportsbooks. Below are the 13 players and their respective teams.
Harry Kane- England
Harry Kane was instrumental in the World Cup qualifying campaign for England, he captained the team in the last two matches in which he led from the front. Kane is undoubtedly England's in-form striker and the team will be relying on his goals in order to progress.
Dele Alli- England
Dele Alli alongside Harry Kane propelled England to the World Cup. Deployed as a number 10 just behind Harry Kane in most of England's World Cup qualifying matches, he showed that he has what it takes to perform at the very top. Alli is expected to be among the first names on the team sheet for England's matches.
Eric Dier- England
With England's favoured central defenders performing well below par this season, Eric Dier might just find himself playing as a central defender at the World Cup. The Manchester United duo of Chris Smalling and Phil Jones haven't impressed while Gary Cahill has been restricted to the bench rarely featuring for the blues. If Gareth Southgate goes by form, then Dier will easily slot into the central defence role.
Danny Rose- England
A year ago, Rose was Spurs and England's best left back but that is no longer the case. Rose will be on the plane to Russia without argument but the big question is, will he get a starting berth. At present, it doesn't look like it.
Kieran Trippier- England
Trippier has been superb for Spurs in the right back spot such that Kyle Walker hasn't been missed much by the Spurs faithful. However, Trippier faces his 'nemesis' for the chance to be the number one right back for England at the World Cup finals.
Harry Winks- England
Winks starred in his first couple of matches with England and if he is on the plane to Russia, he will undoubtedly continue that form. However, his biggest challenge is to fight for the spot to get on the plane to Russia in the first place.
Toby Alderweireld, Moussa Dembele& Jan Vertonghen- Belgium
Spurs preferred central defence pairing plays for the same national team but they have not been the first choice pairing for Belgium as Vincent Kompany is preferred for ahead of them. However, one thing is clear and that is they will both be at the World Cup including their club teammate Moussa Dembele.
Hugo Loris & Moussa Sissoko- France
Loris is France captain and that is a guarantee he will be at the World Cup and he is likely to be joined by Moussa Sissoko who despite underwhelming club performances always put in a shift when he plays for the national team.
Others
Other Spurs players who will be competing in Russia include Christian Eriksen with Denmark, Erik Lamela with Argentina and Heung-Min Son with South Korea.
Kluivert for Janssen: Is it all Double Dutch?
It's nearly silly season and despite a tradition for inactivity in the January transfer window, Spurs are already being linked with a number of post-Christmas purchases. Perhaps the spectre of £9m Alan Hutton looms large but rumour and reality are likely to be polar opposites again at the start of 2018.
Any requirements
The temporary switch to Wembley hasn't been the widespread disaster that many felt and those expert arbiters the bookmakers have Tottenham as a general 1/3 to finish in the top four again this season. We'll take that and move forward at the new White Hart Lane and that's a skinny price where you'd tend to use some bookie bonuses rather than part with any cold hard cash.
If the odds setters have got that right, there seems little point in scouring Europe for reinforcements but one suggested deal might have some potential.
Dutch swap
A Dutch swap might not be the wisest terminology to use on a trip to Amsterdam but Spurs could use it to their advantage and switch one ailing striker for a winger who seems to be a decent prospect. Justin Kluivert for Vincent Janssen – why not?
Let's be honest, despite a positive night in Madrid, Poch is unlikely to abandon his preferred formation for two recognised front men on a regular basis. So who really wants to claim the back up striker role while waiting for Harry's latest hamstring pull or the chance to shine on a wet night in Burton in the Carabao Cup?
Llorente is 32, has a tendency to spend a bit of time in the physio's room and may just be happy enough for now. It's certainly a better option for the club than er… no-one at the start of 2015/16 but how long will his patience last?
At the other end of the age scale, the failed signing of Moussa Dembele from Fulham may have been a disappointment in many ways. He's scored 37 goals in 58 games for Celtic and yes, while you or I could probably manage at least one in the SPL, at 19 he would have been a decent punt and is more likely to bide his time while Harry kicks on.
Exit
We all really, really wanted Vincent Janssen to do well and it wasn't necessarily the isolated goals that suggested there was something there. The Dutchman's performance in coming off the bench at Swansea and turning that game around, gave us hope.
In the summer, Janssen somehow managed to swerve a deadline day move to either the Swans or Brighton in a switch that would have proved whether he is an option in the EPL or not. Instead, the stats at Fenerbahce read two goals in 454 minutes at this point in the season plus three yellow cards.
Over in Amsterdam, Kluivert, son of Patrick, is just 18 and is establishing himself at Ajax while working his way through the Dutch junior ranks. Other mentions go to Donny van de Beek who is 20 and just slightly more advanced in his club career.
But the one that could be very interesting here is Kasper Dolberg, the 20 year old Danish striker who is also at Ajax and is averaging just under a goal a game in the first team. Like all players with any star quality, he's not going to be in the Eredivisie forever although more stories link him away from Spurs and down the wrong end of the Seven Sisters Road right now.
So, is a Dutch switch with Janssen eventually heading to Ajax the best option for all? At the very least we're starting to fill up the subs bench in the 'played for both XI'*
*Atouba, Sanchez, Vertonghen, Alderweireld, Davids, Eriksen, Van der Vaart, Dick, Tainio, Clarke.
We need a keeper – have I missed one?
Harry Kane's crazy value in the football market
In today's football market prices are insane, totally over the top, fans have to wonder if the transfer madness will ever end. At the end, it is up to the teams, because they are the ones who pay, but there is no parity at all budget-wise, so this price bubble can only be inflated by the rich teams, while the others are kept looking from the outside, that is the harsh reality.
With all this in mind, Mauricio Pochettino and Tottenham team officials have determined that Harry Kane, their superstar striker and face of the team is worth 227 million euros, a price tag that was assigned after having impressive campaigns as the league's top scorer.
So there you have it Real Madrid's, Barcelona's, and Paris Saint Germain's of the world, if you want Kane that is the fee that you have to pay, and considering the money that was passed around last summer, Kane me even be a bargain at that price because he is coming off his best season to date, with amazing numbers. The best of all this is that we can win money with Kane's scoring ability, place a bet in instantsportsmoney.com and reap the benefits. 
Tottenham's star forward scored 35 goals in only 38 games, those are jaw-dropping numbers, just crazy. And the seasons before were already impressive on their own. In 2014-2015 Kane scored 31 goals in 51 games, and in 2015-2016 he scored 28 in 50. It is no wonder why they put the hefty price tag, so high that even the world's richest teams have not even tried to bid for the English finisher. 
In British currency, Kane is worth 200 million pounds, about 227 million euros, more than the two officially the most expensive signings in history together: Pogba (105 million to Manchester United from Juventus) and Bale (101 million to Tottenham to Real Madrid). This has to give you a better idea of Kane's worth to Tottenham and to the world of football.
Of all the teams that are interested in Kane's lethal services, Manchester United was one of the most insistent in getting the young striker in their lineup. The Special One's team was looking for a center forward and Kane would fit the bill, but the price tag was too high, so they opted to pursue and sign RomeluLukaku away from Everton, and that has worked out well for the moment. Alvaro Morata was also another great option for the Red Devils, but he was dealt to Chelsea for an elevated transfer fee.
To no one's surprise, Tottenham Hotspur player Harry Kane is considered one of the best strikers in the world, week after week he punishes opposing defenses and scores almost at will, braces, and hat-tricks are just a day's work for the English man. Kane knows that he is playing in the box as good as anyone in the world, he has no shame in calling it like it is when talking with the press, with statements in the line of: "If you look at my stats and my goals, I'm up there. If you want, you can post 'I'm one of the best in the world' and I'm more than happy about it".
At this stage of his career, after all the personal glory, it should be nice for Kane to win something with the club and not just scoring titles. That is the new goal, to finally win a Premier League title with the Spurs, they have so close in the past seasons, but the results just didn't add up in the end. As for the goal scoring table, his rivals will be Alexis Sánchez, who still (and sadly for him) still plays in Arsenal; and RomeluLukaku, who like we said before, made the switch to Manchester United.
Injuries have hit Kane in the past seasons, but he has been capable of coming back stronger after each one. He's had some trouble with ankle injuries, but they seem to be in the past for now. The 2017-2018 has seen Kane on the top of his game, he has scored six goals in seven games and Tottenham is once again expected to be a challenger for the Premier League trophy. It seems like a long shot, but the Spurs are also playing Champions League football, and with the bigger clubs in notable slumps, it could be the year when the other clubs finally have the chance to be continental champions.
Mauricio Pochettino, the team's tactical mastermind has declared to the media that he is "in love" with Harry Kane after his astonishing displays in the box, we are sure that the South American manager is not alone in that department, the fans of the Lilywhites are happy with a striker like Kane in their team.
The Background on Spurs New Boy - Davinson Sanchez
In signing twenty-one-year-old Colombian international fullback Davinson Sanchez, the 2016/17 Premier League runners up have made a true statement of intent after a relatively quiet summer. Standing 6'2, Sanchez is a commanding presence at the back, but he came from humble beginnings. Born in Caloto, a town in north eastern Colombia, Sanchez' prodigious skills in the beautiful game meant that he was able to make the coveted move south to Cali while still a youth.
As an industrial hub and producer of many football talents, the city proved the making of Sanchez. After surviving the culls of América de Cali's youth academy, Sanchez transferred to the youth setup of perennial title favourites Atlético Nacional (A.N). Upon arrival, he was mentored to greatness by Juan Carlos Osorio, who is currently manager of the Mexican national team. Despite having his own playing career being catastrophically cut short by injury at the age of just twenty-six, Osorio's renegade training methods have enabled him to build an impressive record as a coach and assistant manager in two different continents.
Sanchez was promoted to the A.N first team in 2013, and made his debut for the reigning champions in October that year. Though it was a losing debut, Sanchez was a constant presence at the back in his subsequent appearances, making some crucial tackles and interceptions against far more seasoned professionals. His consistency at the back enabled A.N to win the TorneoApertura twice and the TorneoFinalización once in the space of three seasons, and it was only a matter of time before the big guns of Europe began calling. In 2016, it was Ajax's turn to court the defensive prodigy. The club did so successfully, signing Sanchez in the belief that he could add an extra degree of defensive solidarity, which would re-establish Ajax as the dreaded Dutch superpower it once was.
Though Ajax failed to win the title in 2016/17, Sanchez' impact was instantaneous. For the second consecutive season, Ajax conceded less than twenty-five goals, and finished with a goal difference of +56. For Sanchez, the added bonus of a run to the Europa League final at such a young age does him further credit. However, as evidenced by the dominant nature of Manchester United's win over Ajax in that final, the physical demands of the Dutch top flight pale greatly in comparison to those of its English counterpart. With Sanchez' total Premier League game time barely amounting to a minute so far, the more sceptical amongst Tottenham's fan base may question why Mauricio Pochettino has opted to spend a rumoured £42m GBP on Sanchez.
<![if !vml]>
<![endif]>
Where home form is concerned, the statistics do not lie, and for a squad of Tottenham's quality, they are thoroughly damning. In six competitive games at Wembley (spanning two seasons), Tottenham have yet to keep a clean sheet at their temporary home. Pochettino's men have also won just once as the 'home' side at Wembley, with that match being an inconsequential 3-1 win over CSKA Moscow. At the back, Toby Alderweireld and Jan Vertonghen boast ample experience, and an average age of twenty-nine between them – around the age at which most professionals peak. However, though they are already established in the Premier League, recent performances have seen them both lapse defensively and squander vital points. Most recently, two points were sickeningly dropped in the dying embers of injury time against Burnley, and now all the latest football betting odds show a slight lengthening of Tottenham's title odds.
Pochettino will undoubtedly spend much of the international break drafting alternate starting lineups to ponder as the games mount up and the pressure to achieve increases. Depending on how much activity takes place before the end of the transfer window, Sanchez may figure prominently in those differential team setups. Though unaccustomed to the physical demands of the Premier League, Sanchez is well known for his good distribution and game reading ability. His card-per-game rate is encouragingly low, and his continued presence in the squad of eighteen will give the current back two of Alderweireld and Vertonghen a very real incentive to perform. In 2016/17, Sanchez achieved a pass completion rate of 89%, compared to the 84% average made by both of his positional rivals. Sanchez also made more than twice as many successful interceptions as Alderweireld last season.
Ultimately, Sanchez can expect a far greater degree of involvement in Champions League matches as squad rotation becomes a weekly consideration for Pochettino. In the more difficult phases of Tottenham's looming European games, Sanchez' distinctly 'continental' style of defending may provide the element of surprise his team needs, if they are to avoid another early Champions League elimination. The Lilywhites face a challenging trip to Goodison Park in their next league outing, on 9 September, with a newly fired-up Wayne Rooney set to lead the line for the hosts.
Author bio
Tamhas Woods is a BJTC-accredited sports journalist with a Masters in Journalism from Staffordshire University.
14th August 2017  - Onwards and upwards
Danny Rose's outburst has seemingly failed to derail Tottenham's start to the season as they produced a strong performance to beat Newcastle 2-0. Spurs never looked in trouble and it became a formality when Jonjo Shelvey foolishly got himself sent off. Dele Alli and Ben Davies duly obliged and Tottenham started the season with a vital three points as rivals also won. It will be a testing few weeks, however, as Spurs try to get to the end of the transfer window without any more grumblings from stars that feel underpaid compared to their counterparts at the likes of Man City and Chelsea. But if they can keep the team together and supplement it with some quality, then Tottenham have shown they can very much challenge for the 2017/18 title.
Only Chelsea finished above Spurs last season and they have started the new campaign in shambolic fashion, losing at home to Burnley and finishing the match with nine men. They will struggle to field much of a team against Spurs in next weekend's game in the wake of suspension, injury and a diminutive squad, and that will give Tottenham a great chance to land a huge psychological blow at the start of the campaign. But Man Utd and Man City looked extremely strong and composed as they got their seasons underway, illustrating how tough the competition will be this time around.
Spurs need fear nobody, however, after beginning the new season as they finished the last: keeping it tight at the back and punishing teams going forwards. Tottenham scored more goals than any other Premiership team last season and conceded fewer. Alli kept up his superb form and Harry Kane continued his dreadful run of never scoring in August, but he will likely end that soon as he still looked sharp. Son returned and Cristian Eriksen was superb, so Tottenham still have peerless firepower. In Hugo Lloris, Jan Vertonghen and Toby Alderweireld they have a magnificent defensive triumvirate that will stand strong against almost anyone. Full-backs play their part, but those three are dominant. The loss of Kyle Walker is not really that much of a blow when you consider how well Kyle Walker-Peters acquitted himself in that role and how good Kieran Trippier has become. On the left Davies was marvellous, showing that Tottenham can afford not to be too concerned with Rose's headspace just now. Spurs seemingly have an inexhaustible supply of energetic full-backs drilled in the Mauricio Pocchetino mindset, and they supplement a ludicrously strong core that also benefits from Eric Dier, Mousa Dembele and Victor Wanyama in the centre of the park.
But Tottenham clearly do need to make some signings. The old adage goes that if you stand still you get left behind and as the only Premiership club not to buy anyone this summer you could accuse Tottenham of standing still. Of course, that is misguided when you consider that players like Kane and Alli are young and constantly improving. But they will want to look around the dressing room and see some exciting new faces to gee them up for another crack at the title. Not the sort of players you have to Google, as Rose so mischievously put it.
It is obvious that Spurs have one of the best, if not the best, starting 11 in the Premiership, but they do not have one of the best squads. Their back-ups for Alderweirled, Vertonghen, Kane and Alli are not up to scratch, so investment needs to be made and competition for places needs to be increased. Signs are that Daniel Levy is just waiting until he can drive the price down, as he so loves to do, and that Spurs will splash some cash. That all makes Tottenham look a very good bet for the title right now, particularly in the wake of Chelsea's struggles. Before wagering review the odds at a sportsbook like Betdsi and find competitive prices. You can get Spurs at the 17/2 mark now and it is worth taking that sooner rather than later as the odds will only drop again if Spurs beat Chelsea next weekend.
Can Spurs succeed without making a single summer signing?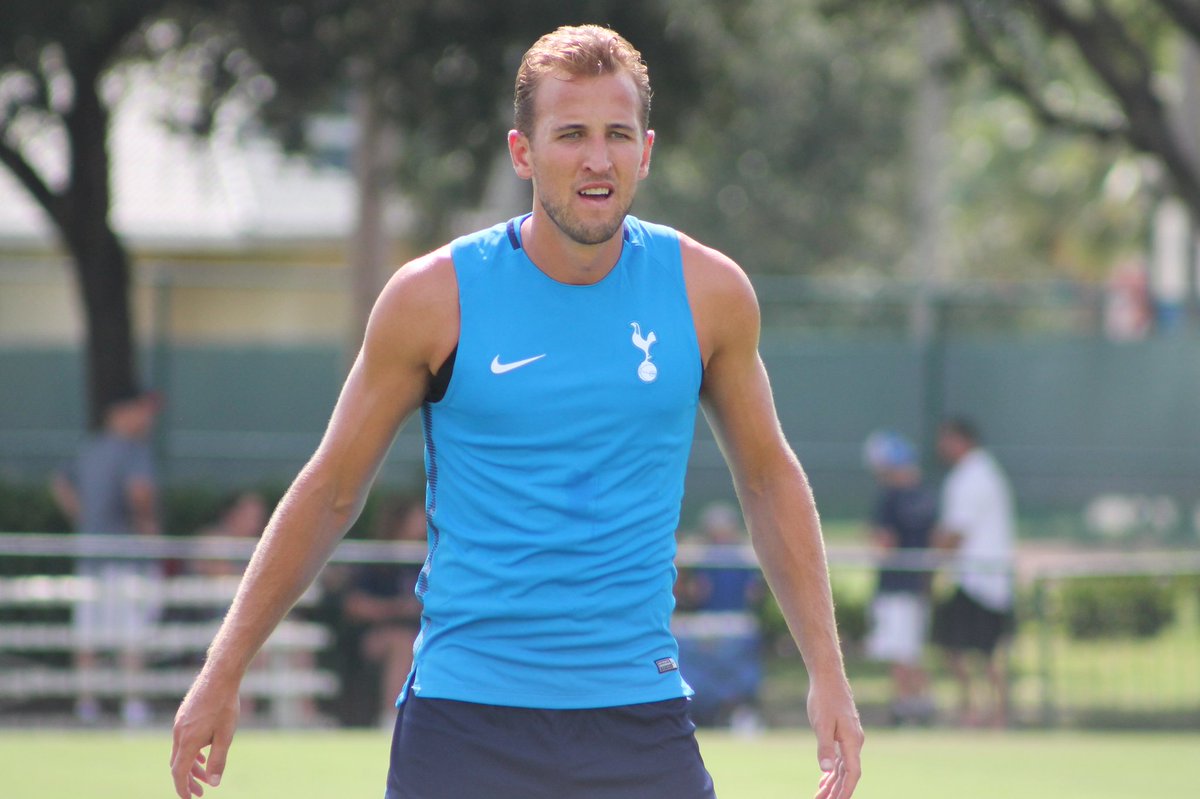 Source: Harry Kane via Twitter
Tottenham Hotspur enjoyed a hugely successful 2016-17 Premier League campaign. Not only did Tottenham finish second in the league table, but they also ended up above bitter North London rivals Arsenal, who did not even claim a Champions League spot. True, the way Spurs crashed out of the Champions League and the Europa League left a bad taste in the mouth, but overall it was a successful season.
Spurs fans will expect the team to do just as well in 2017-18, if not better. After all, they have seen a steady progress since Mauricio Pochettino became the manager in 2014. After finishing third and second in the Premier League for the past two seasons, they should be aiming to go all the way and lift the title in 2017-18. True, there will be stiff competition from the likes of Chelsea, Manchester United, Manchester City and Liverpool, but Tottenham under Pochettino have shown that they actually thrive when they have strong teams to contend with.
Tottenham, though, have been quite inactive in the summer transfer window, and that has caused some tension and worry among the fans. The North London club have also lost Kyle Walker to title rivals Manchester City and have yet to replace him. Kieran Trippier could step up, but the 26-year-old was the second-choice right-back at White Hart Lane for the past two seasons for a reason. With Manchester United, Manchester City, Chelsea and Liverpool all adding to their respective squads this summer, Spurs are in danger of getting left behind.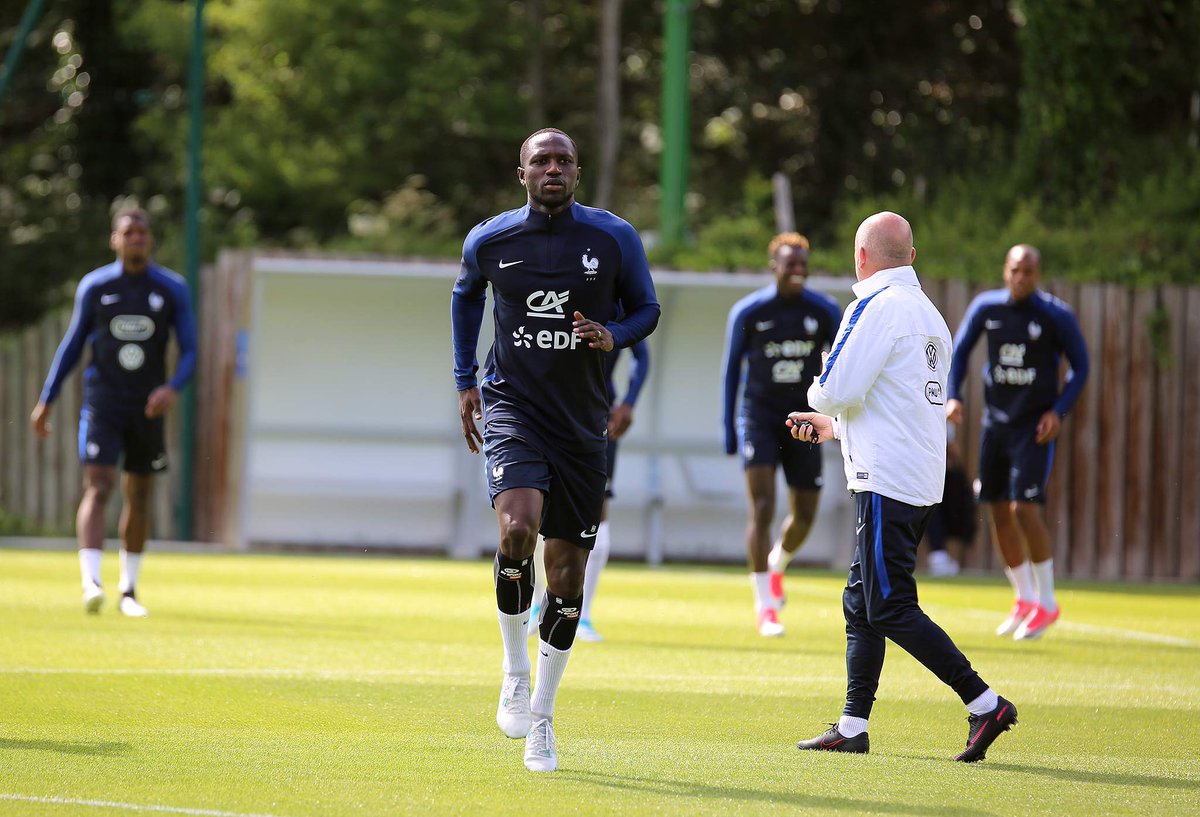 Source: Moussa Sissoko via Twitter
However, do Spurs need to sign players in order to be successful next season? Pochettino already has a well-settled starting lineup, and except the right-back position, it is hard to see where Tottenham can strengthen. Who is going to be a better striker than Harry Kane in the current team? Who can give Dele Alli and Christian Eriksen a run for their money in the midfield? Would Spurs get better central defenders than Jan Vertonghen and Toby Alderweireld? Given how good Tottenham were last season, your sports blog at bitcoin bookmaker Sportsbet would suggest you place a bet on them to finish in the top four of the Premier League yet again in 2017-18, even if they do not sign anyone between now and the end of the summer transfer window.
Tottenham, though, could do with signing a couple of players who are going to strengthen the substitutes' bench. Vincent Janssen endured a disappointing 2016-17 campaign and was able to score just two goals in 27 Premier League matches. Even when Kane was out injured for a spell, the Netherlands international striker failed to convince Pochettino that he deserves to start. While it would not be fair on the 23-year-old to be shipped out after just a season, it would not be wise of Tottenham to rely on the Dutchman to step up in case Kane suffers a long-term injury. Signing a striker who can be a suitable back-up to Kane is important.
Spurs could also do with selling Moussa Sissoko. Signed from Newcastle United in the summer of 2016 for £30 million, the France international midfielder was able to make only eight starts in the Premier League last season. If Tottenham could sell him and sign a younger midfielder in his place, such as Ross Barkley from Everton, then it would be business well done for the North London club.